There are so many things I love about Christmas. The children's performances at school and at church. The time with loved ones. The church services we have during the Advent season. The shopping, even. There is nothing about Christmas I dislike.My favourite part of the holiday, though, is the music. So when I saw the latest theme challenge at
Christmas Card Throwdown blog
I knew I had to play along.
The toughest part was choosing what song to use as my inspiration. Ultimately, I went with Frosty The Snowman. The song was a great one to sing at school when we had our sing a long at Christmas. And the cartoon was wonderful. I cried with Karen every time Frosty melts. And then when Santa arrives and saves the day... sigh. Loved to hate the magician. The cartoon was just classic. One of the best adaptations of a song into a tv show/cartoon.
Now, the best was 'Twas The Night Before Christmas, but I couldn't find any stamps in my stash that I thought would work. I probably shouldn't say more about that cartoon; it's worthy of it's own blog post one day. Suffice to say, I still go on Youtube and watch parts of it because I'm utterly frustrated by the fact that it's no longer airing here, and I can't find it on DVD. Oh, and all you Big Bang Theory fans? I propose that if Sheldon were a talking 9 year old mouse, he'd be Albert. Albert rocks.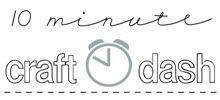 Two, I realized I could tie the card into the new
10 Minute Craft Dash challenge.
I love making quick and cute cards. I used a basic layout and gave the snowman a bit of dimension by using a Deco Art Snow Writer. While it was still wet I applied some glitter over top which stuck to the 'snow'. It's hard to see in the photo but it looks great in real life.
This card took only 6 minutes, 52 seconds (I timed it, per the challenge guidelines). It might have come a wee bit closer to the full 10 were it not for the fact that I've made this layout often enough that I have the dimensions nearly memorized. I considered adding some ribbon, but I was afraid it would take me over the 10 minute time requirement. Ribbon and I do NOT get along; I don't have the dexterity for it.
I couldn't find any patterned paper in snow colours that I liked, so I decided to use colours that are more traditional for Christmas, but not very common with snowmen. It was also a way to force myself to use my Holiday Thyme DSP again, partly because I really do need to finish up using it and partly because Late Night Stampers has a 'To Cool To Use' challenge to encourage us to use something we hoard. Anyone who's seen my paper cabinet will tell you I hoard it.
Card Details - SU unless otherwise noted
Cardstock:
Cranberry Crisp, Very Vanilla
Stamps
:It's Snow Time
Paper
: Holiday Thyme DSP
Ink
: Basic Black
Other:
Snow Writer (Deco Art), Glitter (unknown)